| | |
| --- | --- |
| | |
| Robert Elvorti | Tomas Elvorti |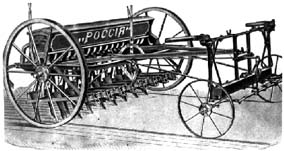 Seeder "Russia"( 1888 )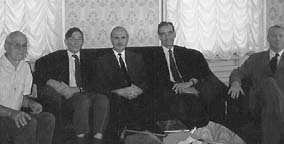 The visitors from England in a hall of a museum (1998)
On the right - on the left: the chief of college Devis Morison, grandson of Elvorti Rodger Vebb, general director "Red Star " factory Alexandr Suinsus, grandson of Elvorti Mikle Vebb, manager by a museum Yuriy Antonov.
The factory " Red star " (now it is an opening joint-stock company ) is one of the ancient enterprises for manufacturing sowing and another agricultural techniks.
Based in 1874 by the English businessmen Robert and Tomas Elvorti, the factory from small handicraft workshop on assembly, adjustment and presaling to preparation of machines, which were taken out from England, has turned to the large enterprise for manufacturing agricultural techniks .
Per 80 years of 19 century the factory "Elvorti" (so it referred to as till 1919), as specialized seeding factory was first and unique not only in the Russian empire, but also in Europe. Except for seeders at a factory the horse drives and others agricultural mashines by small parties were made molotilki, prosorushki (rus).
In 1913 at a factory more than 3000 men worked. Within the First World War shells, mine, mine"s machines, carts and other military equipment here were made. This production made more than 90 % of common volume of manufacture. At the end of 1917 at a factory 7000 men worked. In the Kavaleriyskaya street (now Ordzhonikidze), nearby to the railway, per second half 70 years of 19 century the perfect apartment house of the brothers Elvorti was constructed which is a monument of architecture and history.In this house since 1994 began to be formed a museum of a factory " Red Star ".
After nationalization of a factory "Elvorti" in April, 1919 in this house the telephone station and other services of a factory was placed . By April 19, 1919 the factory " Elvorti" is renamed in " the First state machine-building factory of city Elisavetgrad ". Since April, 1922 the name of a factory has changed on " Third agricultural machine-building factory ".
On competitions and exhibitions for the period 1882-1911 years production from factory " Elvorti" " has received 37 gold and silver medals. In 20-30 years XX centuries the factory " Red Star " continued release of seeders of different purpose, combines and other agricultural engineering.